Life Line Health Screenings
When:
July 20, 2018 @ 9:00 am – 2:00 pm
2018-07-20T09:00:00-04:00
2018-07-20T14:00:00-04:00
Where:
Zion United Church of Christ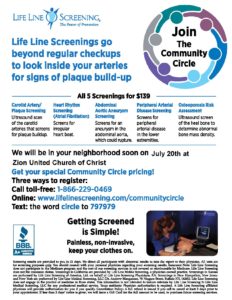 Why Get Screened?
Taking preventive steps such as making lifestyle changes and getting health screenings may help you avoid a stroke or other serious health events in the future. Early intervention is important. If you are over fifty and have diabetes, high cholesterol, high blood pressure or if you have a family history of stroke or heart disease, you may be at risk, even if you feel great. Actually four out of five people who suffer a stroke have no apparent symptoms and nearly 30% of strokes occur under the age of 65. The good news is that according to the National Stroke Association, 80% of strokes can be prevented. Life Line Screening will help you find out if you are at risk, so you and your doctor can take the next steps and be proactive about your health.
Where: Zion United Church of Christ
When: Friday, July 20, 2018
Pre-registration is required. Register for a Wellness Package which includes 4 vascular tests + Osteoporosis from $149 ($139 with our member discount). The screenings take 60-90 minutes to complete. In order to register for this event and to receive a $10 discount please call 1-888-653-6450 or text CIRCLE to 797979 or visit www.lifelinescreening.com/communitycircle