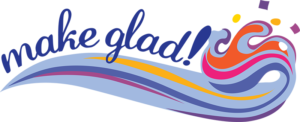 Greetings from Baltimore!
As I write this article, friends from all over the country and the world are getting their boarding
passes ready for flights, packing up the car for road trips, or, from some, settling into the hotel rooms
that will be home for the next several days. When I arrived early for training, the halls of the convention
center were all but empty. Over the past few days, I've watched them come to life. I can feel the excitement
building in the air. I can feel the Spirit moving through the halls and through our meeting rooms.
General Synod is a wonderful thing. It really is. As I look around at all that's going on, I am reminded
of how big and wide our wider church family is. Friends, there are folks here from all over the
world who love and care for our Zion family, even though they have never met us. This is the bond of
Christ.
I have the privilege of chairing a committee that will be responsible for revising a resolution and
submitting it to the general body for a vote. It's a somewhat complicated process. There's lots of detail
that goes into this work, and it takes a lot of ,me. The United Church of Christs goes through this committee
resolution process every two years. Some wonder what impact one of these resolutions could
make. Because of the way our UCC family functions and the way the different settings of the church relate
to one another, the resolutions that pass here at General Synod are not binding for our local churches.
They speak to us, encouraging us to take a stand, think about our ministry in new ways, or add to the
work of Christ that is happening in our churches. Yes, some,mes our wider church family feels far off,
but I know that these are our sisters and brothers is Christ.
The resolution that my committee will be working on is titled A Resolution of Witness in Support
of Adult Survivors of Child Abuse and Neglect. It comes from our friends in the Central Atlantic Conference.
This particular resolution calls for the church to offer care and support to those in our world who
have faced horrors that are hard for some of us to even begin to imagine. It asks us to see, with compassion
and care, that there are people in our churches and in our neighborhoods who are in need of healing
love. A resolution like this one will make an impact only if we take the opportunity to respond to this call
that our wider church family is giving us. If you have ,me, take a look at the resolution at synod.uccpages.org.
Keep our wider family in your prayers. There is so much excitement and love in the air, as the
Spirit moves through this place and the people who are gathered here.
Pastor Sarah