John 3:16-17 (NRSV)
16 "For God so loved the world that he gave his
only Son, so that everyone who believes in him
may not perish but may have eternal life.
17 "Indeed, God did not send the Son into the
world to condemn the world, but in order that
the world might be saved through him.
This winter! It has been rough, friends. I think I drove through more snow this winter than the last two combined. And that ice. Flu and
cold season hit hard, too. I can't wait to see everyone again once the earth thaws and the sniffles subside. Spring is right around the
corner. Each time I read our Lenten poem, "Lenten Psalm of Awakening" by Edward Hays, I am reminded that just as God is calling forth new life as Spring arrives, so too is God calling each of us to new life rooted in God's love.
We've seen lately how deeply in need our society is of an awakening to God's ways and God's love. The world needs Christ's church so much to remind them that death and destruction do not have the final word and that God's love can offer healing and wholeness. There are simple acts of love and prayer that we at Zion share daily. How can we spread Christ's love even more?
As we get closer and closer to our Easter celebration, are there people God is calling you to invite to join us? Do you know people who are longing for a community of Good News and love? Think of 2 or 3 people you might invite to join us at Zion. Let's welcome them during this special season in the life of the church. Let's share Christ's love and the Good News of the Resurrection with them, as we awaken to the new life of Spring that is ready to unfold.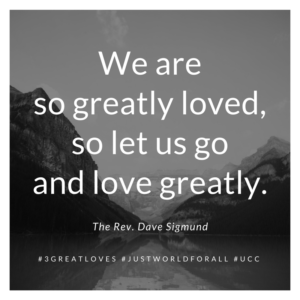 —Pastor Sarah