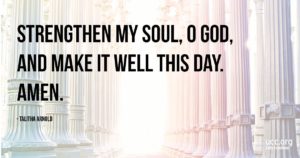 "Rejoice in the Lord always; again I will say, Rejoice. Let your gentleness be known to everyone. The Lord is near. Do not worry about anything, but in everything by prayer and supplication with thanksgiving let your requests be made known to God. And the peace of God, which surpasses all understanding, will guard your hearts and your minds in Christ Jesus." Philippians 4:4-7 (NRSV)
During worship the end of September and into October, we have been and will continue to study Paul's letter to the Philippians, in a sermon series called "Dear Saints."  We will look at the scripture above on October 15th.  It's one of the passages from Philippians that has been with me through some of the hardest times of my life, and it's one that continues to bring me comfort and remind me how very near God is to us.  "Rejoice in the Lord always," Paul encourages his friends, "again I say , Rejoice!"
Lately, I know my heart has felt heavy and at times it's been hard to rejoice.  We have witnessed so much devastation and destruction lately.  We've seen it on a global scale in our own communities and families.  There are times when the hardships of life weigh us down, and the community in Philippi knew what that felt like.  They saw suffering and hardship all around, but precisely in those moments, Paul reminded them that there were so many things about which they could rejoice!  This community of faith not only had each other for support and care but also had God to envelop them in love and peace!  That's exactly what we have here at Zion, too.  We have an incredibly caring church family and a God who is steadfast.   Friends, where have you experienced joy in your life lately?  What signs of hope has God helped you see?  Dwell on those moments.
Looking at what we have planned for the next few months here at Zion, I can already see that there will be so many moments of joy in my life because of the ministry of this congregation.  When I was growing up, getting to walk around Bulter for the Indianapolis CROP Walk, was one of my favorite things that my youth group did each year.  I can't wait for the October 15th walk when our youth and others will get out there, enjoy the day, and witness to the important ministry for which they are walking. The CROP Walk raises funds for Church World Service, which is a ministry that is there when disasters strike and is there for the long road of recovery.
The weekend after the CROP Walk is going to be filled with lots of joy, too!  We'll be having another bonfire (Oct. 21), and there is certainly joy to be felt when eating a toasty s'more on a Fall evening.  And if that wasn't enough, we'll have our Chili Cook-Off the next day (Oct. 22)!
On November 4th our gym is going to be filled with joyful noises, during our Raise the Roof Music Festival.  What brings me joy about this is not only the beautiful music we'll get to hear but also that we'll be collecting food for our pantries, in addition to the money we're starting to raise for the roof on our Education Building.  We are a church that serves our community in so many ways!  I'm looking forward to our Fall Bazaar on November 11th.  There are some really talented vendors who join us for this event, and it's amazing to see the  what they create. I hope you can make it to one or two or all of these joyful events!  What really makes these gatherings joy-filled for me is that we get to spend time together in fellowship as a church family.  Rejoice, friends!
—Pastor Sarah