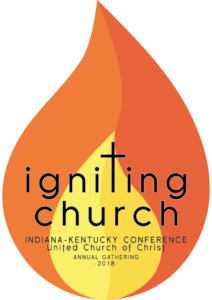 "Never let the fire in your heart go out.  Keep it alive.  Serve the Lord.  When you hope, be joyful.  When you suffer, be patient.  When you pray, be faithful.  Share with God's people who are in need.  Welcome others into your homes."
—Romans 12:11-13 (NIRV)
"Do not lag in zeal, be ardent in spirit, serve the Lord.  Rejoice in hope, be patient in suffering, persevere in prayer.  Contribute to the needs of the saints; extend hospitality to strangers."
—Romans 12:11-13 (NRSV)
The winds of the Spirit were blowing strong among us on Pentecost Sunday, as three of the young people of our congregation professed their faith and affirmed the promises of their baptism.  It brought joy to my heart to watch as our church family surrounded these young people with our love and support.  It's exciting and inspiring to see the church guided by the Holy Spirit.  It's moments like these where we can look back and rejoice that, yes, God was here, dwelling among us.  The light of God's love was shining brightly.
The theme of the Indiana-Kentucky Conference's Annual Gathering this year is "Igniting Church."  It's all about stoking the fire of our faith, about keeping the flames fed.  I saw our church family at Zion ignited on Pentecost Sunday, and I know that this gathering with our wider church family is going to ignite my spirit, too.  It's going to be an exciting gathering, with great preachers (Rev. Vince Amlin being one of them), inspiring speakers, and lots and lots of our wider church family members.  Close to 300 of us will be gathering to worship, learn, and do the work of the church, with the Spirit guiding us each step of the way.
When the Annual Gathering planning team picked Romans 12:11-13 as the guiding scriptures, I was excited.  It's the same scripture that we use for all of our Hospitality Team meetings.  We use the NRSV translation for our meetings, but I love the NIRV translation that will be used at Annual Gathering.  "Never let the fire in your heart go out.  Keep it alive," the scripture reminds us.  It captures so well what we are called to do as church.  Not only do we need to tend to our own spiritual needs by keeping the fire in our hearts burning bright, but our faith calls for outward expression as well.  Our faith leads to action; it leads us to share with those in need and to live lives of welcome and hospitality.   What will you do today to stoke the fires of your faith and how will you share that shining light with others?
—Pastor Sarah