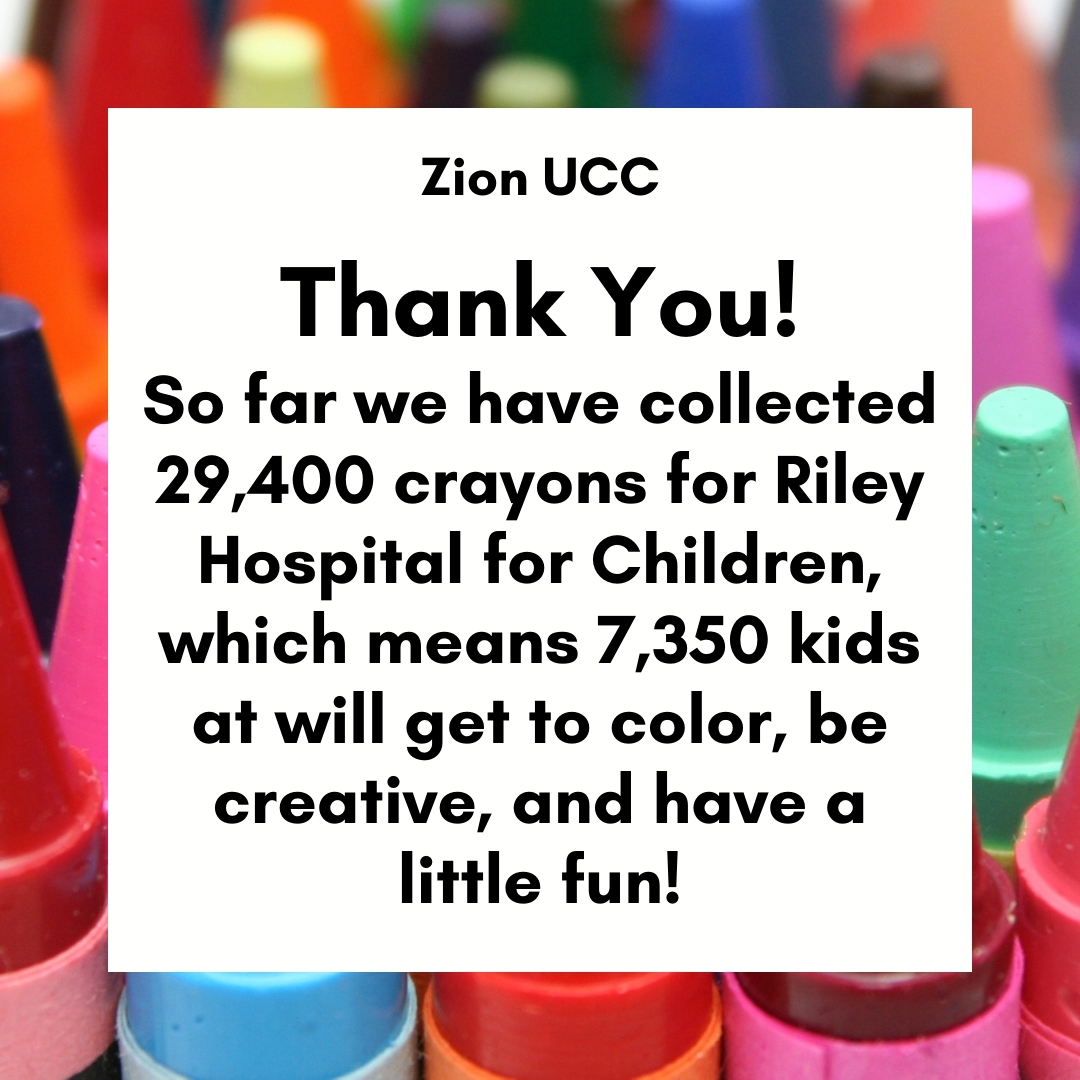 Thank you to everyone who donated toward our Crayon Drop for Riley Children's Hospital.  We set out to top last year's collection of 6,120 crayons.  Wow, with your help we went above and beyond! Well done! As part of our ongoing Vision and Strategic Plan process, we are being intentional about making a greater impact on our community.  Serving our neighbors is part of who we are at  Zion UCC.
Worship @ Zion
We worship Sundays at 10:00 am in our sanctuary and live stream our service to Facebook.
SPECIAL ANNOUNCEMENT FROM COUNCIL
Pursuant to Marion County's mask mandate, those who are fully vaccinated can choose not to wear a mask during worship service and in Zion's buildings and grounds.  Those who are not fully vaccinated are required to continue wearing a mask.  We support those who choose to wear a mask regardless of vaccination status.  Social distancing for everyone is strongly encouraged.
We will continue not to sing indoors and will re-evaluate at a later date. If you'd like to sing in-person, please join us for our outdoor Sunset Worship services the last Sunday of the month through the summer.
If there are any questions, please see a council member.
Zion Council
Worship @ HOME
We know that not everyone is comfortable returning to in-person worship.  We also know that there are reasons apart from the COVID-19 pandemic for why folks might not be able to make it to Zion Sunday mornings.  We are committed to continuing online worship into the future.  We hope you'll join us for Worship @ Home as we continue to do ministry in new ways here at Zion UCC.
Come hang out with us...
Zion United Church of Christ is a faithful community that strives to follow the teachings of Christ, as we are called to make a difference in this world.  Please, come join us as we minister to one another and our community.  Truly, you are welcome here, where we believe that God is still speaking and has a message to share with us.