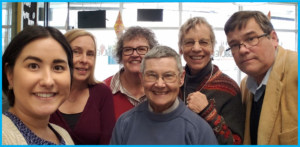 Zion, on Sunday, April 22 we hosted Lindley and Andy, two Global Ministries volunteer missionaries who served in Sri Lanka for two years.  Thank you for your hospitality!
Some of my most powerful memories of church growing up were visits we had from our Global Ministries Missionaries.  In middle school and high school I was absolutely fascinated by the adventurous tales our missionaries shared with us and by the powerful ministry these good and gracious people were doing all over the world.  They helped me believe deep in my bones that Christ really does unite us with sisters and brothers around the world.  The love we have for Christ crosses borders and permeates through our diverse cultures and traditions.
When a colleague let me know that Lindley and Andy would be in Indianapolis for a meeting and were hoping to be able to worship with one of our churches, I jumped at the opportunity.  I hoped that they could bring to Zion the same blessings I had received growing up when missionaries came to visit.  I know I felt blessed by their presence and their ministry.  What I love about being part of the United Church of Christ is that it makes our church family that much bigger.  All over the country and all over the world we have instant friends.  I found that to be true one again when Lindley and Andy arrived.  Together as a UCC family we are able to support some amazing ministries that share Christ's love.
—Pastor Sarah