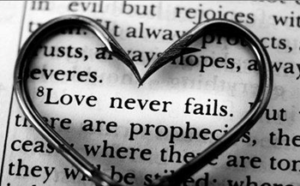 John 3:16-17 (NRSV)
16 "For God so loved the world that he gave his only Son, so that everyone who believes in him may not perish but may have eternal life.
17 "Indeed, God did not send the Son into the world to condemn the world, but in order that the world might be saved through him. 18 Those who believe in him are not condemned; but those who do not believe are condemned already, because they have not believed in the name of the only Son of God.
John 3:16-17 (The Message)
16-17 "This is how much God loved the world: He gave his Son, his one and only Son. And this is why: so that no one need be destroyed; by believing in him, anyone can have a whole and lasting life. God didn't go to all the trouble of sending his Son merely to point an accusing finger, telling the world how bad it was. He came to help, to put the world right again.
Toward the end of January, with snow and ice coming down outside, I was reminded of the deep warmth of God's love.  I had the opportunity to attend the Annual Indiana-Kentucky Conference Pastor's Continuing Education Retreat.  My friends and colleagues from around our wider church family and I were able to dive into the birth story of Moses, a story full of love and grace, and learn wonderful things about preaching and worship.  What struck me most during this time of learning and growth was  a moment during worship when our presenter and worship leader reminded each of us, by name, that we are beloved children of God.  In our world, it's not too often when someone looks you in the eye to remind you that you are beloved, and there are times in our lives when we all need to be reminded of that.
Love is the core of the Christian faith.  It was through God's love that creation was brought into being.  It is the greatest command we have received—to love God, to love our neighbors, and to love ourselves.  It was because of God's steadfast, unending love that Christ came into this world to embody God's love for us.  The season of lent is a time set apart in the church for us to remember God's fierce and extraordinary love for all of humanity.  It is about God's deep longing to love us and be loved by us.   In the cross and the empty tomb, we find the fullest revelation of God's love for us.  During this season of Lent, join us each Wednesday at 7:00 pm beginning Ash Wednesday (February 14) to hear  the reminder that you are beloved. —Pastor Sarah